Sometimes problems arise that you have never dealt with before. This happened to me three times: I was surprised by two French speeding tickets in France when I returned home from a trip and 1 parking ticket when I was in Cavaillon. Here's what you should know about these traffic fines in France and how to pay them.
Originally published in June 2015 and updated on October 21, 2023.
1. How you will be notified of your French speeding tickets
If you're caught speeding, you'll find out not only from the government, but also from your rental car company about your driving violation. When you get home you will receive 2 letters:
(a) Car rental agency
The car rental agency will charge you an administrative fee. It can range from €20 or more. The notice will refer to "Traffic fine…..administrative fee".
(b) Government agency
They will send you an official notice stating where you exceeded the speed limit and by how much. It will also list the cost of the fine, depending on when you pay it.
Before I share my experience with you, I will first share some information about driving in France….and what you can do to avoid traffic tickets.
2. Tips for avoiding French speeding tickets and parking tickets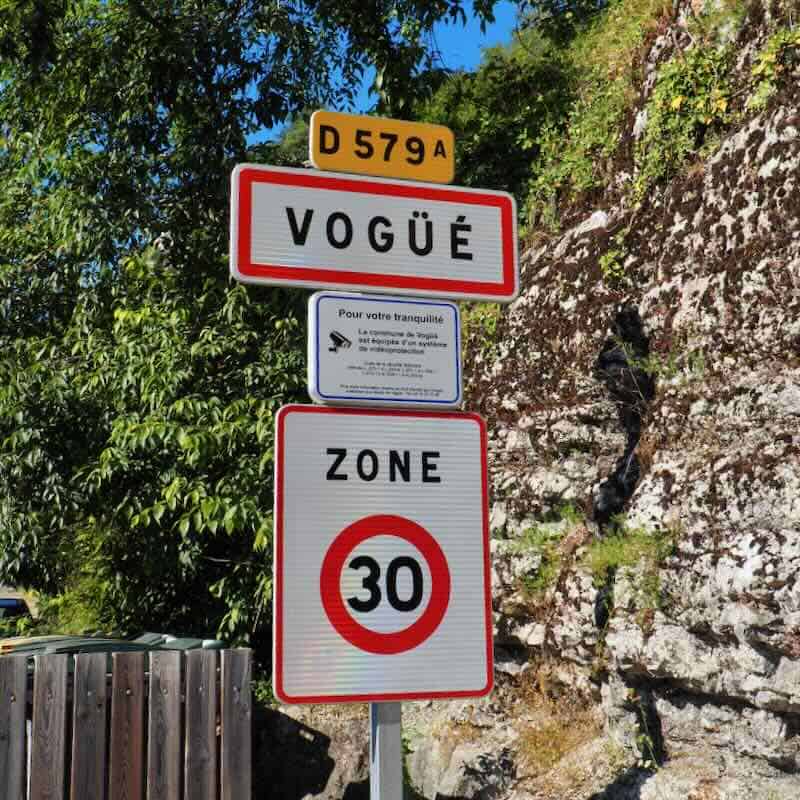 (a) Tip #1: Observe speed limits at all times
Driving in France used to be free for all. The limit was 130 km/h and everyone exceeded it. No more. There is photo radar everywhere. I think the most notorious locations for speed cameras are roads leading into small towns. Suddenly the speed limit drops to 30 km/h and there aren't always lying players slowing you down. As soon as you see the sign, be alert! It is very easy to get a speeding ticket in France.
Note: I am NOT a speedster or a speed demon! I am (usually) a careful driver; however, in France they will give you a ticket, even if you are only 5 km/h over the limit. Unfortunately, I didn't pay enough attention.
(b) Tip #2: Make sure your GPS can alert you
Nowadays I use either my Garmin GPS or the GPS on the Google Maps/Waze app on my smartphone as they usually (but not always) show the speed limit. During the last trip, however, I noticed that the limit on the GPS was different from what the signs said. So, of course, I followed what was written on the sign. GPS will often warn you if you exceed the limit, so keep an eye on this notification (and the road).
(c) Tip #3: Always assume you have to pay for parking
Yes, I had my fill of traffic violations in France during that trip! I also got a parking ticket. I saw a big lot, but I didn't look carefully for the payment machine. I think it just didn't cross my mind. This was stupid because I was downtown….where most parking is paid.
3. My French speeding tickets
(a) Rental Company Administrative Fees
When I returned home after one of my trips, I received fees from the two rental car companies I used: €20 from Hertz and €30 from Europcar. The first French word you'll want to know is "The first word you'll want to know: fine. It's in French "money fine". That means: a fine.
Both stated the following, "Fine traffic….administrative burden". This means that if you have an offence, the police ask for driver/renter information from the car hire company so they can send the driver (me) a notice of what I did wrong.
(b) French speeding tickets received in the mail
I ended up getting two speeding tickets from the French government for speeding my rental cars. Neither had a photo of the car; however, maybe since then they are doing it now. (When I was accused of damaging my rental car in 2023, they sent a photo).
Traffic tickets were mailed to me in Canada. The first one took about 6-1/2 weeks to get to me and the second one took about 25 days.
What was the fine for speeding in France? These were the fees from a few years ago and they have gone up. There are three types of penalties:
Reduced sentence: If I had paid within 46 days of the incident, the fine would have been €45.
Fixed penalty: If the fine was paid between 47-76 days after the offence, the cost rose to €68.
Increased penalty: If I didn't pay or dispute the traffic ticket within 76 days, the cost was €180.
My first traffic ticket
Go 118 km in a 110 km zone.
Date of offense: April 19.
I received the notice in the mail around June 3rd.
My second traffic ticket
Go 122 km in a zone of 110 km.
Date of offense: May 16.
I received the notice in the mail around June 10th.
(c) Payment of French speeding fines
The good (?) news is that there is an English website that makes it easy to pay your ticket online (https://www.amendes.gouv.fr). It is best NOT to ignore the map. When I go back to France, I don't want to have any problems.
4. France: Penalties for speeding in 2023
If you are on a road limited to 50 km/h, and you speed up to 20 km/h, the fine starts from 135 euros.
If you are on a road where the speed limit is higher than 50 km/h, and you speed up to 20 km/h, the fine starts from 68 euros.
Speed ​​between 20-50 km/h over the limit? The fine starts at 135 euros. And if you rush over 50 km/h? 1500 euros.
5. My French parking ticket
One day I parked my car in the Cavaillon car park because I was going to rent a bike and tour the area. I didn't see a sign anywhere that there was a 2 hour limit. (Okay, I didn't ask hard enough). I discovered this upon my return.
I had to seek help from a bike shop to figure out how to pay the €17 fine. Here's what I learned:
I could pay by check. That didn't work for me. I live in Canada and did not have a French current account.
I could pay the "Timbre-Amende". This is a stamp. I was told that I had to go to Tabac (a shop that sells tobacco) and buy a stamp from them. It is a special stamp that is placed on the notice and sent by mail. Hmmm. I have to find some tobacco. Not all tobacconists have those stamps, but fortunately, the other one I went to had it. I had to get clarification on whether I should put the form in the envelope or not. No, just put another postage stamp and send!
It is now more and more common to pay fines online; however, if it is a small town, you may not have this option.
Check out these posts for more travel tips related to driving and renting a car:
Pin to your favorite Pinterest board